---
TYCHO is a multidimensional (1D/2D and 3D) compressible hydrodynamics code written in C and parallelized with OpenMP. A Lagrangian remap version of the Piecewise Parabolic Method developed by Paul Woodward and Phil Colella (1984) is applied. The code is based on the freely available VH-1 Package.
---
A short video-tutorial on how to set-up a simulation for a fan-grill from a STL-file and how to use PARAVIEW/VISIT for the visualisation can be found here.
(The STL file was taken from http://www.thingiverse.com/thing:74964 - licensed under the Creative Commons license)

---
Find some examples on my channel at


---
TYCHO offers you:
Obstacle - Gas interaction

Heat-diffusion within obstacles
Thermal-exchange between gas and obstacles
Viscosity (Sutherland's law)
Gravity as a constant background field
Inclusion of marker-fields, which are advected with the velocity-field of the gas
Wind-emitters
Up to six different boundary conditions (easy to implement your own)
Can write four different file types (including VTK)
A graphical user interface to set up all simulation parameters
An easy 2D initial-condition generator to extract boundaries from Pixelgraphics
An easy 3D initial-condition generator to extract boundaries from

STL

and

Point Data

(such as 3D scans)
Sound-simulations for investigating dB-Maps with obstacle absorbing and reflecting sound-waves
---
The versions 1.3 and above do have more data in a parameter-file, see the documentation for details. tychoGUI assists you in generating the proper parameterfiles for your simulation.
Compared to older versions, version V1.3 is improved regarding speed and it uses a different data format for initial/boundary/windemitter and marker files. You have to use tychoBCGEN V0.5 to generate the new file format, including a 200 byte offset at the beginning (for metadata) and a row-major ordering of the data.
---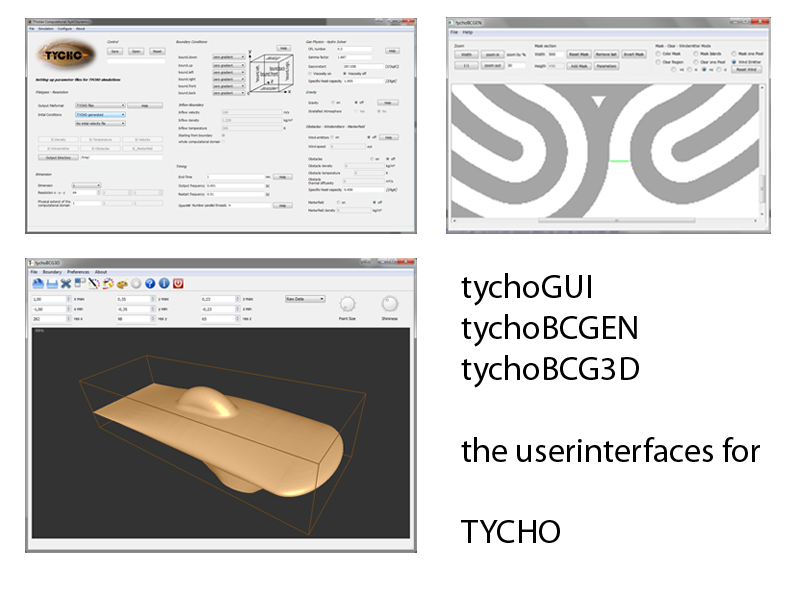 TYCHO for Windows (v1.3.1) - the complete simulation package for Windows with installer
TYCHO (v1.3) - the simulation package for Linux (configure/make/make install)

tychoGUI (v1.0) - a graphical user-interface to make interaction with TYCHO easier for Linux (qmake-qt4/make)
tychoBCG3D (v0.2) - a 3D boundary condition generator for STL- and point data (e.g. 3D scans)
tychoBCGEN (v0.5) - a 2D boundary condition generator from pixel graphics for Linux (qmake-qt4/make)
The simulation package is focused on gas-obstacle interaction experiments and has special routines for obstacles in wind-streams and advection of marker fields. In addition momenta and their direction on obstacle-surfaces, thermal diffusion, and viscosity can be studied within in your simulation. Gravity is included as a constant background-field and a stratified atmosphere can be set up, if needed.
TYCHO is freely available to everyone. You are welcome to download it and do whatever you want with it. I would appreciate, however, if you would acknowledge the package in your publications/work and if you would send me information for what purpose you use the code. Keep in mind that this code does not come with any guarantee.
---
Here are some examples of TYCHO simulations. For some of them initial conditions can be downloaded.
| | | | |
| --- | --- | --- | --- |
| | | | |
| | | | |
| | | | |
| | | | |